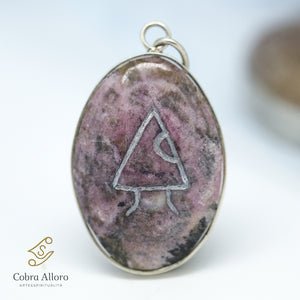 VAJNE - Rhodonite, Otro Valsesia
Regular price
Sale price
$102.36
Tax included.
Shipping
calculated at checkout.
---
Rhodonite is considered the keeper of masculine energy. It is linked to the fourth chakra, the heart chakra. Feng shui tells us to place it in the southern area of a room in order to trigger a process of growth for the whole family.
On a physical level rhodonite works on the nervous system as much as on the immune system. It is also used by women who want to promote their fertility.
It can be used to release negative energies on the ground, improving contact with the universe. It is good in meditation providing great clarity. It can be used to make dreams and visions clearer.
The symbol in Sacred Language "Vajne" in Damanhur means the program of the New Man, that refers to the human beings able to complete their path of divinization of matter and continue their journey towards evolution through the centuries.
It is a millenary project that has reached a crucial stage. The citizens of Damanhur call themselves "Vajne", in all places of the world.
Sacred Language is a form of language introduced by Falco Tarassaco - founder and spiritual guide of Damanhur - based on phonetic, ideogrammatic language and movement. According to Falco's teaching, it is an archetypal language, dating back to a time when humanity was master of all the deep meanings and values of existence.
Damanhurian Prayer Stones are to be worn daily as pendants and are indicated to carry out specific works on the different Chackras.
To enhance the effect of the stone it is recommended to hold it in your hand, close your eyes and visualize the symbol for one minute. This operation can be repeated several times a day.
LAUREL COBRA UADJIT

Cobra Alloro is an Artist, Spiritual Researcher of the Federation of Communities of Damanhur. He has contributed, through the creation of sculptural and ceramic works, to the realization of the Temples of Humankind.
In the territories of the Community there are several works made by him: Statues depicting Deities, Columns and Capitals, Fountains and much more.

Cobra knows in depth the esoteric meanings and symbols of Sacred Damanhurian Language and uses this language to express spirituality through art.
Each Damanhurian Prayer Stone stone is ritually prepared through an esoteric rite that follows Damanhurian philosophy in order to resonate to the frequency of the person who will own it.
For more information contact this number: +393485155710 or write me an email through the contact form, follow this link: https://cobralloro.com/en/pages/contattaci