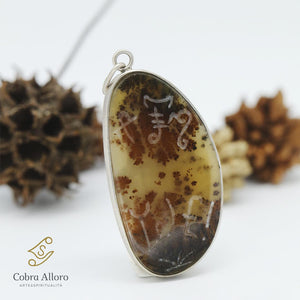 I AM LIGHT, CONSCIOUSNESS, EMOTION OF THE HEART, DIVINE PROTECTION - Moss Agate
Regular price
Sale price
$100.74
Tax included.
Shipping
calculated at checkout.
---
Considered a sacred stone for those who work in contact with mother earth, Moss agate is also a great healing stone.
From a physical standpoint it reduces sensitivity to some mild food intolerances. Other physical benefits include the ability to reduce and to fight symptoms of infections and seasonal ailments.
Moss agate vibrates at a fairly low frequency when compared to other stones. It can therefore balance energies where they vibrate too fast. It balances the spiritual as well as the intellectual and physical planes.
Helps to bring out personal expression in ones business world and attracts prosperity. An excellent stone if you are self-employed or own your own small business, for example. Choose it if you are jumping into a new work experience.
Use it if you want to focus more, if you want to be more resilient to life's tests and if you want to attract love and abundance in all spheres of life.
It works very well on the heart chakra which is located near the sternum. The powers of this stone are enhanced and emphasized by the engraving in sacred language "emotion of the heart".
The strength of the stone combined with the engraving of different symbols in sacred language "Light, Awareness, Heart emotion and Divine Protection" make this crystal an extremely powerful tool capable of attracting abundance and prosperity in different aspects of existence.
Wear it if you want to improve the way you relate to others, if you want to be more balanced.
Sacred Language was introduced by Falco Tarassaco - founder and spiritual guide of Damanhur - and it's based on a form of phonetic, ideogrammatic and movement language. According to Falco's teaching, it is an archetypal language, dating back to a time when humanity was master of all the deep meanings and values of existence.
COBRA ALLORO UADJIT
Cobra Alloro is an Artist, Spiritual Researcher of the Federation of Communities of Damanhur. He contributed, through the creation of sculptures and ceramics, to the realization of the Temples Of Humanity.
In the territories of the Community there are several works he created: Statues depicting Divinities, Columns and Capitals, Fountains and much more.
Cobra knows in depth the esoteric meanings of the symbols of Sacred Damanhurian language and uses this language to express spirituality through art.
Damanhurian Prayer Stones are prepared on the frequency of those who will own them and shipped within 48h.
For more information call this number 3485155710 or write me an email through the contact form, follow this link: https://cobralloro.com/pages/cont us