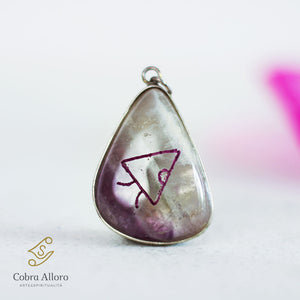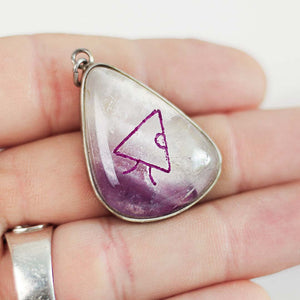 VAJNE - Fluorite, Cina
Regular price
Sale price
$75.42
Tax included.
Shipping
calculated at checkout.
---
Fluorite is a source of clear and orderly energies, able to dispel the confusion of the mind, to structure one's personality, and also to predispose to spirituality.
According to chrystal therapy it has the property to harmonize the two brain's hemispheres and therefore it is conducive in the process of expansion of one's consciousness,increasing psychic awareness and allowing a greater absorption of vital force.
It stimulates our logical-cognitive capacities and helps those who use it to understand a situation or a concept as a whole. It predisposes the mind to analogical connections.
Fluorite is recommended for those who study or work in an environment charged with electromagnetic vibrations, because like Tourmaline or Shungite it prevents damages to the organism.
The symbol in Sacred Language engraved on this stone is "Vajne" which means "program of the New Man", a concept very dear to Damanhurian philosophy. This symbol talks about the spiritual evolution of our species, the kind that will be able to complete its journey towards divinization of matter. This is a millenary project that has reached a crucial stage. The citizens of Damanhur refer to themselves as "Vajne", in all places in the world.
Combined with the orderly properties of fluorite, this symbol helps the person who wears it to bring out within himself the most powerful spiritual parts, able to progress in the chosen path with strength and discipline.
Sacred Language was introduced by Falco Tarassaco - founder and spiritual guideby Damanhur - and it is based on phonetic, ideogrammatic and movement language. According to Falco's teaching, it is an archetypal language , dating back to an era in which humanity was the master of all the profound meanings and values of existence.
Damanhurian Prayer Stones are to be worn daily as pendants and are suitable for carrying out specific works on the Chackra.
To enhance the effect of the stone it is recommended to take it in your hand, close your eyes and view the symbol for a minute. This operation can be repeated several times a day.
COBRA ALLORO UADJIT
Cobra Alloro is an Artist, Spiritual Researcher and Instructor of the Damanhur School of Meditation. He contributed, through the creation of sculptures and ceramics, to the creation of the Temples of Humankind .
In the territories of the Community there are several of his works: Statues depicting Divinities, Columns and Capitals, Fountains and much more .
Cobra has a deep understanding of the esoteric meanings and symbols of Sacred Damanhurian Language and uses it to express spirituality through art.
Damanhurian Prayer Stones are energetically prepared through a Selfic Damanhurian ritual to resonate to the frequency of those who will own them and shipped all over the world
For international shipping visit the checkout for shipping costs and times.
For any questions don't hesitate to contact us link: https://cobralloro.com/pages/contattaci