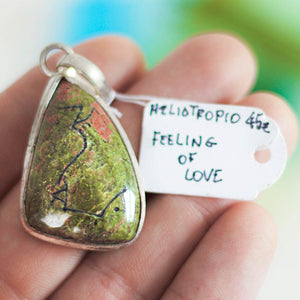 HELIOTROPIO - Feeling and Love
Regular price
Sale price
$48.49
Tax included.
Shipping
calculated at checkout.
---
Heliotrope and the sacred language
Heliotrope is a stone that gives calmness and at the same time helps to face difficult situations, even those where survival spirit is tested. Ideal for the lower Chakras, it helps purifying them and aligns their energies. It makes you more patient, less aggressive and angry.
It protects from unwanted external influences. Among other things, it promotes the ability to adapt. It allows you to face challenging periods in a much more relaxed way, without losing mental clarity.
The symbols engraved on this stone are Feeling and Love, and the combination of these with heliotrope stone is ideal for those who want to strengthen their relationship and protect feelings from external negative influences. Pure love and feeling, beyond any challenge.
Sacred Language was introduced by Falco Tarassaco - founder and spiritual guide of Damanhur - and it is based on phonetic and ideogrammatic language and on movement. According to Falco's teaching, it is an archetypal language, dating back to an era in which humanity was the master of all the profound meanings and values of existence.
USE
Damanhurian Prayer Stones must be worn daily as pendants and are suitable for carrying out specific works on the Chackra.
To enhance the effect of the stone it is advisable to take it in your hand, close your eyes and visualize the symbol for one minute. This operation can be repeated several times a day.
PRAYER STONES SELFIC PREPARATION
Our crystals are energetically prepared through a Selfic structure called Spheroself which intervenes on synchronicity.
By the process of linking the Spheroself with the Prayer Stones, it is possible to connect these to the particular frequency of an individual. This procedure amplifies the power of the symbols in Sacred Language engraved on them, making them precious instruments of energetic support.

For this reason, once you have purchased the product, I ask you to send the date of birth and full name of the person who will wear the stone in order to prepare it on his or her frequency.
If you want to find out more about Selfica: https://sel-et.com/
COBRA ALLORO UADJIT
Cobra Alloro is an Artist, Spiritual Researcher of the Federation of Communities of Damanhur. He contributed, through the creation of sculptures and ceramics, to the realization of the Temples Of Humankind.
In the territories of the Community there are several works he created: Statues depicting Divinities, Columns and Capitals, Fountains and much more.
Cobra knows in depth the esoteric meanings and the symbols of Sacred Damanhurian language and uses this language to express spirituality through art.
Damanhurian Prayer Stones are prepared on the frequency of those who will own them and sent free of charge throughout Italy in 48h.
For more information call this number 3485155710 or write me an email through the contact form, follow this link:
https://cobralloro.com/en/pages/contattaci