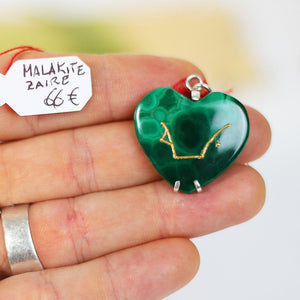 LOVE - Malachite, Zaire
Regular price
Sale price
$71.11
Tax included.
Shipping
calculated at checkout.
---
⌲ Stone set in 925 silver
MALACHITE PROPERTIES
Malachite stimulates awareness of one's needs and desires. It helps living one's own emotions without becoming enslaved to them and developing the decision to free oneself from traumas and repressed emotions.
It is of great help in freeing from negative energies created by our own mind: it removes fear, inhibitions and selfishness. In this way it helps to get in touch with others on an empathic level, expressing feelings with greater authenticity.
It helps to surround oneself with true affection, both in terms of friendship and love, and helps to open one's heart to any kind of relationship based on affection and trust.
The sacred language symbol engraved on this stone is love, precisely to strengthen and complement its properties.
SACRED LANGUAGE
Sacred Language is an archetypal language dating back to a time when humanity was master of all the deep meanings and values of existence. It was introduced by Falco Tarassaco - founder and spiritual guide of Damanhur - and is based on a form of phonetic, ideogrammatic and movement language. According to Falco's teaching, this is an archetypal language, dating back to a time when humanity was master of all the deep meanings and values of existence.
Wearing these symbols brings a precise message to our body and soul, directing thoughts and events.
PRAYER STONES SELFIC PREPARATION
Our crystals are energetically prepared through a Selfic structure called Spheroself which intervenes on synchronicity.
By the process of linking the Spheroself with the Prayer Stones, it is possible to connect these to the particular frequency of an individual. This procedure amplifies the power of the symbols in Sacred Language engraved on them, making them precious instruments of energetic support.

For this reason, once you have purchased the product, I ask you to send the date of birth and full name of the person who will wear the stone in order to prepare it on his or her frequency.
If you want to find out more about Selfica: https://sel-et.com/
COBRA ALLORO UADJIT
Cobra Alloro is an Artist, Spiritual Researcher of the Federation of Communities of Damanhur. He has contributed, through the creation of sculptural and ceramic works, to the realization of the Temples of Humanity.
In the territories of the Community there are several of his works: Statues depicting Deities, Columns and Capitals, Fountains and much more.
Cobra knows very well the esoteric meanings and the symbols of the Sacred Damanhurian Language and uses this language to express spirituality through art.
The Damanhurian Prayer Stones are prepared on the frequency of those who will own them and shipped free throughout Italy in 48h.
For more information call this number 3485155710 or write me an email through the contact form, follow this link: https://cobralloro.com/pages/contattaci