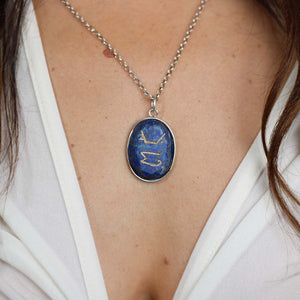 LOVE, PURE INTENT - Lapis Lazuli, Afghanistan
Regular price
Sale price
$71.11
Tax included.
Shipping
calculated at checkout.
---
LAPIS LAZULI AND SACRED LANGUAGE
Lapis Lazuli transmits an ordering principle to the body, it is therefore suitable for chaotic and disordered people who in their confusion need to find a center . The inclusions of Pyrite suggest the image of a starry sky and the possibility of reaching a higher order .
Sacred Language was introduced by Falco Tarassaco - founder and spiritual guide of Damanhur - based on phonetic and ideogrammatic language and on movement. According to Falco's teaching, it is an archetypal language , dating back to an era in which humanity was the master of all the deep meanings and values ​​of existence.
The symbols in Sacred Language "Love and pure Intent" engraved on the stone encourage you to express the best part of yourself. The symbols integrate with the properties of the stone, attracting abundance and at the same time order and peace.
USE
Damanhurian Prayer Stones should be worn daily as pendants and are suitable for specific works on the Chackra.
To enhance the effect of the stone it is advisable to take it in your hand, close your eyes and visualize the symbol for a minute. This operation can be repeated several times a day.
PRAYER STONES SELFIC PREPARATION
Our crystals are energetically prepared through a Selfic structure called Spheroself which intervenes on synchronicity.
By the process of linking the Spheroself with the Prayer Stones, it is possible to connect these to the particular frequency of an individual. This procedure amplifies the power of the symbols in Sacred Language engraved on them, making them precious instruments of energetic support.

For this reason, once you have purchased the product, I ask you to send the date of birth and full name of the person who will wear the stone in order to prepare it on his or her frequency.
If you want to find out more about Selfica: https://sel-et.com/
COBRA ALLORO UADJIT
Cobra Alloro is an Artist, Spiritual Researcher and Instructor of the Damanhur School of Meditation. He contributed, through the creation of sculptures and ceramics, to the creation of the Temples of Humankind .
In the territories of the Community there are several works made by him: Statues depicting Divinities, Columns and Capitals, Fountains and much more.
Cobra has a deep understanding of the esoteric meanings of the symbols of the Sacred Damanhurian Language and uses this language to express spirituality through art.
Each stone is ritually prepared through an esoteric rite that follows Damanhurian philosophy in order to resonate to the frequency of the person who will own it.
For more information call this number 3485155710 or write me an email through the contact form, follow this link: https://cobralloro.com/en/pages/contattaci